I have long been of the opinion that the best way to neutralise your enemies is to make friends with them. World Peace would break out tomorrow if only everyone followed my advice but, since this is the first time I have given it, they might be forgiven for carrying on with their battles for now.

I know how difficult it is though, because I am as guilty as anyone of harbouring resentments and bearing grudges, usually against foes I have never even met and whose main crime is to be more successful than myself. Since this takes in much of the entertainment profession, the burden can at times be almost unbearable. Delicious though it is to wish ill upon those whose glory one covets, it is a self-negating indulgence: for if success is not good enough for them how can it be good enough for you?

I had an opportunity to relearn this lesson in an extraordinary meeting I had last Sunday.

I was boarding a train at York on my way home to London after a short run with Future Me at the Theatre Royal. Who should I see on the platform but my arch-nemesis, the actor Michael Sheen, the object of a futile grudge I have been carrying since the 16th of March 2006.

It was on the morning of that day that I had a call from the guest-bookers on Richard and Judy's Channel 4 show. Would I come on and talk about Kenneth Williams, as there was a film going out that night on BBC4 about his life called Fantabulosa.

As an actor one is obliged to grab any opportunity for exposure that comes your way and so there was no question of my refusing, though I deep misgivings about it and even nurtured a nagging feeling of resentment. How DARE they ask me to come on and talk about SOMEONE ELSE'S impersonation of the man I had spent the last ten years portraying in my own show Think No Evil of Us. Who was this Johnny-come-lately upstart, destroying all my years of work, taking all the praise that was surely due to me?

What's more, I had read the script in advance and knew what I thought about the play. The part had first been offered to my friend Reece Shearsmith. I have known the League Of Gentlemen boys since 1996 when we met at the Edinburgh Fringe, where we were launching ourselves on the world for the first time. We met on a guest-based show called Mervyn Stutter's Pick of the Fringe. I did the opening speech from Think No Evil of Us and they did their now-classic sketch about the three men in an Indian restaurant getting very upset about a badly-told joke. My first thought as I watched these young lads in dinner suits was, 'Oh dear. Another Monty Python-wannabe student sketch show?'
Within two minutes I had totally revised my opinion and decided they were brilliant and that they would do very well - though I could never have predicted the astonishing rise to fame and glory that they went on very soon afterwards. I didn't resent their triumphs, not only because I knew and loved them but because I didn't feel I could do what they did better. Nevertheless it was impossible not reflect on the very different trajectories our career paths had taken.

So Reece, for whatever reason, decided that Fantabulosa was not for him and very kindly sent me his copy of the script, advising me to tell my agent that the part might now be available. I knew it was unlikely by this point because when whispers had first been heard that the project was being developed, my then agent got in contact with the producers and asked if they would like to see me for the part of Kenneth Williams. He also sent a video of a performance of my show. That was as far as we had got. The next time he asked we got a firm, 'No thanks."

My chagrin was intensified as I started to read the script and came across a scene that seemed to me strikingly similar to one in Think No Evil of Us. In Fantabulosa, Williams leans out of his upstairs window and flirts outrageously with a group of workmen digging up the road below. There follow some lines reminiscent of the ones in my show, which go: "I was just admiring your hole, young man. Ooh, you've got a lovely big 'ole, haven't you dear! Etc." I remember vividly sitting in my flat in Edinburgh in early 1996, writing those lines and laughing as I imagined Kenneth saying them.

I was amazed to read such similar lines in the play but I did not know what to do about it: to complain would look like sour grapes and anyway, I cautioned myself, maybe I was wrong: maybe I had read the words somewhere else and was myself guilty of subconscious plagiarism. So I let it go.

So, there I am on Richard and Judy with, thank goodness, Barry Cryer on the sofa with me. He was utterly delightful and amazed me by telling me that he not only knew who I was but he had seen my show - I had no idea! I was in awe of him, the man who hosted Joker's Wild in the 1970s and who wrote for and knew Morecambe and Wise, Tommy Cooper, Les Dawson, you name ?em.

Richard and Judy were... very professional. When the lights came on they talked to us; when the lights went out they talked to each other.

They played a clip from Fantabulosa and what do you think it was? Michael Sheen as Kenneth leaning out his window and braying on about the workmen's holes. The lights came up and Richard turned to me. What did I think?

The rest is a blank for me, I'm afraid. I have a vague recollection of forcing my lips into a rictus grimace and giving my blessing to the whole enterprise. What else could I do? To have demurred for a second would have betrayed my discomfort and made me look as bitter and dismayed as in fact I was.

It was hard for me to accept that it was time for me to give up the self-appointed mantle of The World's Greatest Kenneth Williams Impersonator that I treasured so long. It was impossible for to me look with any objectivity at Michael Sheen's performance, soon to be feted with the very epithets that had once been mine: 'uncanny', 'has the voice to perfection', 'Kenneth Williams reborn'. Until now I have only been able to watch the first few minutes, before turning off in anguish.

To make matters worse, this Sheen impostor has built his career into one that any actor would wish for himself, triumphing on stage, on television and recently in a series of top-rated movies: The Queen, Frost/Nixon and his new one about Brian Clough. Nothing he touches has the least hint of failure about it. He triumphs time and again. I decided he had to be killed.

So there I am on the platform at York last Sunday morning, girding my loins for an arduous journey ahead with severe disruptions thanks to engineering work, and there on the platform with a nice-looking young lady (his PR person, I surmised) was Michael Sheen, movie star - totally unrecognised by anyone on the busy platform except myself.

I blanched. Should I ignore him?

Yes. I decided if I approached him he would look me coldly in the eye and say, 'Look mate, you do your show and I?ll do mine. If you'd been good enough, they would have cast you. Now excuse me, I have a new blockbuster movie script I have to read.'

The train pulled in, I hustled forward to board by the nearest available door, turned round to find him right behind me. I had to say something, so I quipped, 'Unusual to find two Kenneth Williams impersonators on the same train!' He laughed, immediately realised who I was and mentioned a mutual friend he had seen recently. The ice broken, we clambered on board where his girlfriend (not PR agent) Lorraine Stewart had bagged a table. Just in case it got nasty, I told them I had to do some reading (which is true: I have a massive biography of Samuel Johnson I have to get through, research for a performance I will be giving at the British Library in June about the great lexicographer - more soon!) but would sit with them for a few minutes and until the train got going.

It soon became apparent that Dr. Johnson would have to wait his turn because I have to tell you, we got on like a house on fire. I found both Lorraine and Michael totally charming, open, friendly and quite unaffected by the extraordinary lives they lead. I was astonished that they were travelling in a second-class carriage with scum like me. I would have hired a helicopter.

We spent the entire three-and-a-half hour journey together, during which we were kicked off one train and onto a bus for a ninety-minute ride to Hatfield (I had to turn round in my seat to continue my monologue and was soon overwhelmed by waves of travel nausea which continued for the rest of the journey) and from there, in scenes reminiscent of the exodus from Kosovo, we headed for a tatty little commuter train which we just managed to board before the doors suddenly closed, bisecting an entire family. I shall never forget the anguished cries of dismay from the ladies left on the platform as we pulled out, nor the tears that filled the over-made-up eyes of their hysterical, perma-tanned, too-tight white-trousered lost daughter, cleaved forever from the bosom of her family by an over-zealous First Capital Connect operative.

Michael watched all this from a standing position wide-eyed with wonder. It was the only time that day that I felt like I was actually in a Michael Sheen movie.

When we finally arrived back at King's Cross Platform 10b, we were friends. It felt like a huge relief, to have given up an enmity which had poisoned only myself. I shouldn't have had to meet the man and find him so good-hearted to have got to this stage, but now I have I wish only good things for him.

In the meantime, what do I have to complain about? I am busy at the moment, thoroughly enjoying my work, making enough money to pay the rent and get by without threat of imminent starvation, which must be cause for wonder rather than dissatisfaction. I am on my own path, doing it my own way and grateful to be doing so.

Writing this account, I was reminded of some words of Samuel Johnson's that I came across in my reading, which I imagine have brought solace to generations of self-pitying, neglected artistes. In this case Johnson is referring to writers but it is the same for anyone who tries to make a living by pleasing the public:

'... though it should happen that an author is capable of excelling, yet his merit may pass without notice, huddled in the variety of things, and thrown into the general miscellany of life. He that endeavours after fame by writing, solicits the regard of a multitude fluctuating in pleasures, or immersed in business, without time for intellectual amusements; he appeals to judges prepossessed by passions, or corrupted by prejudices, which preclude their approbation of any new performance. Some are too indolent to read anything, till its reputation is established; others too envious to promote that fame which gives them pain by its increase. What is new is opposed, because most are unwilling to be taught; and what is known is rejected, because it is not sufficiently considered, that men more frequently require to be reminded than informed. The learned are afraid to declare their opinion early, lest they should put their reputation in hazard; the ignorant always imagine themselves giving some proof of delicacy, when they refuse to be pleased: and he that finds his way to reputation, through all these obstructions, must acknowledge that he is indebted to other causes besides his industry, his learning, or his wit.'
Rambler No. 2, 24th March 1750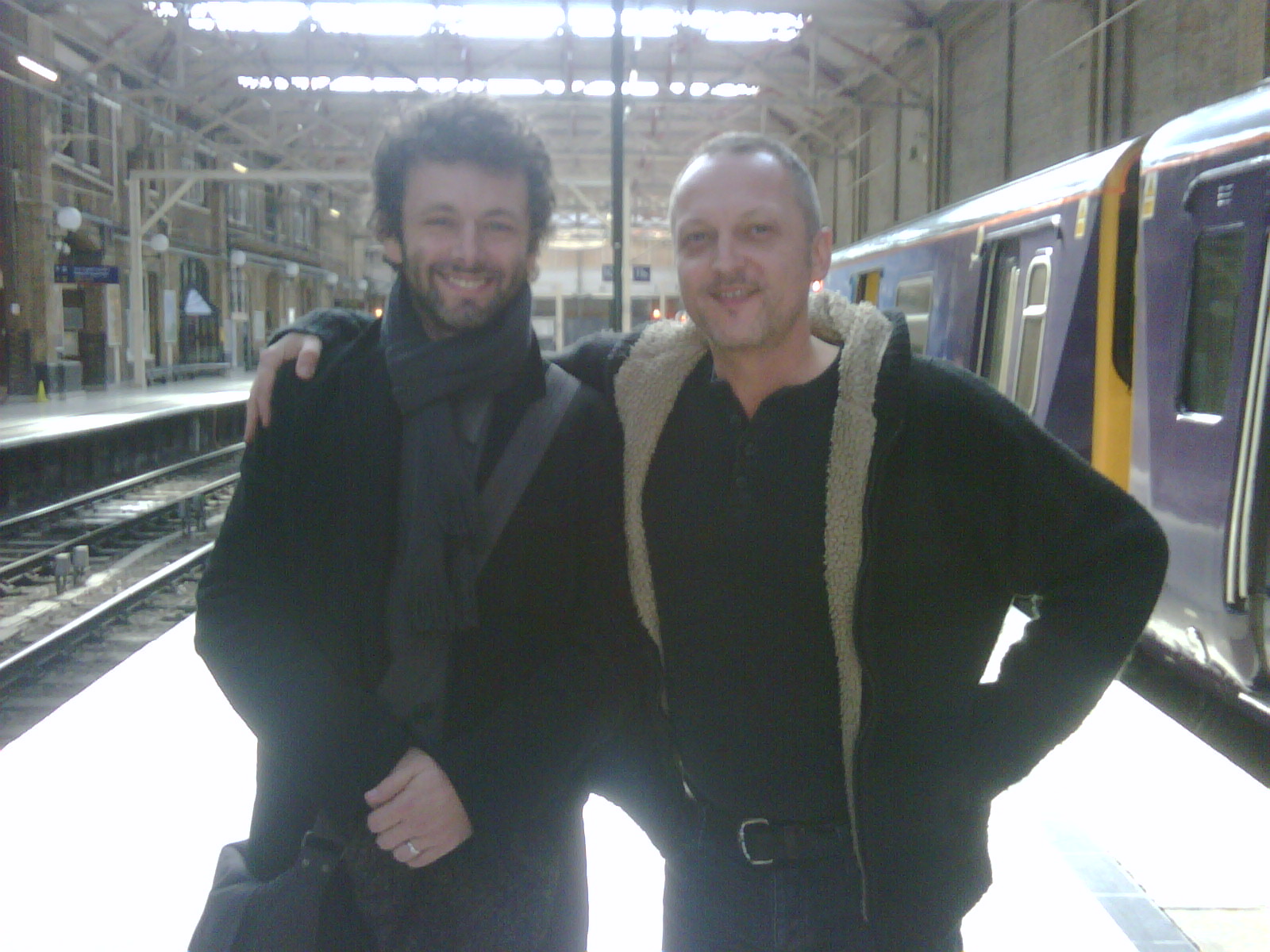 Photo: Lorraine Stewart
POSTSCRIPT: A few days later Michael firmly laid the ghost of the Richard and Judy interview to rest by mentioning our meeting during his interview on Tonight With Jonathan Ross (20-3-09). Within moments of his comment, my phone was alive with text messages and missed calls from astonished friends!

I had a Jonathan Ross moment of my own, when I was interviewed on his BBC Radio 2 show 8-5-04) to promote the cd The Private World of Kenneth Williams.
The audio is here and here is a ghastly photo of us right after the interview.