First published on myspace 10th April 2007



My Life With Dame Edna
There's something I really need to talk to you about: I have a Barry Humphries complex. It is all tied up with my own life-long urge to entertain on stage and it manifests itself in the form of vivid dreams. I usually suffer these dreams when I am planning some new show of my own or am otherwise spending my waking hours preoccupied with my career.

In these subconscious fantasies, which I have been having since my teenhood, I am in a theatre watching my hero at work. I stand in the wings looking out onto the brightly-lit stage where Humphries with his customary electrifying brilliance, plays the audience like an instrument, dressed in his familiar working garb: the mauve wig, the diamante frames, the spectacular frock and the calf-stiffening, custom-built high-heeled shoes.

Sometimes, he leaves the stage and walks past me, visibly shape-shifting back to his mortal self, muttering discontentedly, never satisfied with himself or with his audience. I never dare answer back, for fear of exciting his disapproval at my stupidity, my naked obsequiousness or even my complete irrelevance.

In some dreams, I have had to go on for him. I stagger out before the excited crowd, desperately trying to remember the ad libs I have heard him deliver with such expert timing over my many years of seeing him perform.

'What's your name, darling? ... That's a pretty old name. For a pretty old woman, if you don't mind me saying.'

'You have such a beautiful bone structure: nose in the middle with an eye on each side. It doesn't suit everybody!'

To a large woman:'That's a lovely fabric your dress is made of, darling. Lucky you could get so much of it.'

But my voice cannot sustain the falsetto, the wig does not fit and I cannot remember the lines. The audience is not fooled. I wake up despairing, knowing that I am not Barry Humphries and never will be.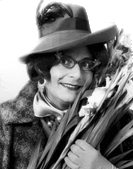 Was It All a Dream... Or Did It Really Happen?
Back in 1998, on one of the most memorable nights of my life, the dream came true but in reverse: I performed for Barry Humphries. He came to see my show Think No Evil of Us, during its brief run at The Vaudeville Theatre in the West End of London. I could see him, sitting several rows from the front, along with his wife Lizzie Spender, playwright Peter Nichols and his wife Thelma and the film director Bruce Beresford, who directed those Barry McKenzie films for Humphries in the 1970s.

All through the performance, while Kenneth Williams' voice was issuing from my mouth, the voice in my head was gibbering, 'Oh my God - Barry Humphries is in the audience. Barry Humphries is watching me. I've watched him on stage so many times and now he's watching me! Oh my God, I can't bear it...'

Afterwards, over dinner with his party, he graciously told me, 'I'm trying to write my new show at the moment and after seeing yours, I don't know why I'm bothering.' I gasped and said, 'But the reason I never did anything for years was because I looked at your work and wondered how I could ever do anything as good.' 'Well,' he said, 'You've done it!'

You can imagine how deeply flattered I was but I didn't really believe him and I still don't. Because I haven't done it. Think No Evil of Us remains the crowning achievement of my life to date. But Humphries goes on and on, getting better and better, always aiming higher with every project and usually - not always - but usually succeeding.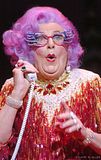 Disaster at The Haymarket
Funnily enough, the show he was writing when we met in 1998 - Dame Edna The Millennium Musical - was his only London flop since the early 1960s. The show departed from his usual format, tried too hard to be clever and failed.

Sickeningly, the critics seemed to relish his misjudgment and pronounced Dame Edna dead. On press night his brilliant stunt, in which he telephones the baby-sitting parents of a young couple in the audience, went badly wrong for maybe the first and only time since he invented it: nobody answered. He tried three different numbers from three different couples and they all failed. With their customary ignorance, the critics accused him of not being able to pull off a trick he had stolen from Julian Clary! In fact Clary stole it from Edna; and though as we all know, Clary is an excellent and lovable performer in his own right, he owes everything to Humphries, whose lines ('I like a nice warm hand on my opening,' 'Give him the clap he so richly deserves' etc) he is still using to this day.

Oh, the pain of seeing my hero, a few weeks into the show's pitifully short run, playing to a threadbare crowd, all moved down to fill out the front rows of the stalls. But oh, the courage with which this superb, inimitable artiste gave his tiny, embarrassed audience his customary 110% performance and never once showed his despair.




Humphries Bounces Back
I remember Edna answering a question on a 1987 edition of Desert Island Discs, 'Where do you go next, Dame Edna?' with the bullet-quick response, 'Up! I go up. It's my favorite direction, Sue Lawley!'

And after the 1998 London debacle, he did just that. He turned his back on the London stage and and went to conquer a new audience: America. Within a year, he was massive hit on Broadway and then on a relentless tour across the United States, performing his old, treasurable material as if freshly-minted and the HELL with those ignorant, illiterate English critics.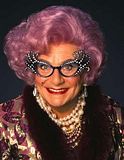 The Dame Edna Treatment
Now, with rumours of a return to the London stage in the air, he - and she - are back. I had another dreamlike night last Thursday 5th April when I went along to the London Studios to see a taping of Humphries' new UK series, The Dame Edna Treatment, currently screening on Saturday nights. Though I have written him the occasional fan letter since meeting him nine years ago - and always had a generous reply - I am not so tight with Mr. Humphries that I would ask him personally for tickets. But my brother Jonathan Hodgson is working for the production company Tiger Aspect at the moment (as Art Director on a children's series called Charlie and Lola) and obtaining VIP tickets was a snip for him.

Thus I found myself sitting in the front row along with several good friends, including my dear myspace friend Clayton, watching Dame Edna at close quarters, recording Episode Three of her series. Her guests were David Walliams and Matt Lucas (with whom I have worked, albeit briefly, on Little Britain Series 3), a deeply boring and unpleasant Piers Morgan and the legendary Debbie Harry.

It really was my dream all over again: there was Dame Edna, looking as orchidaceous and on-top-of-the-world as she did the first time I saw her on stage back in 1979. Maybe she was a little less energetic physically - Humphries is, after all, over 70 now - but mentally she was a sharp as ever. Here, from memory, are some bon mots from the night:

To Walliams and Lucas on their smash-hit Australian shows: 'I came and I absolutely adored your show, what I saw of it...'

To Walliams, re his cross-channel swim: 'You can swim up my channel anytime!'

To Lucas, on bullying: 'My daughter Valmai was bullied mercilessly as a child. It only really stopped when she started school.'

To Morgan, after revealing that she used his new book for pressing gladdies: 'I much prefer this to your first book which was a bit too heavy - it used to crush them.'

To Debbie Harry: 'I knew you weren't a natural blonde when I saw you doing those nude cart-wheels at that party.'

Debbie Harry to Edna, between takes as they posed for photos : 'Sorry, my hand is cold.'
Edna to Debbie Harry: 'It is cold darling. That means another part of your anatomy is very very warm indeed.'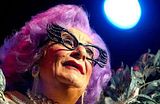 A Close Encounter
In between takes, the lavish set swarmed with technicians, make-up artists and floor managers and the audience chatted amongst themselves. I could not take my eyes off Edna. She roamed about in her black puff-ball dress ('It's so NOW, isn't it?'), suddenly without ego, almost lost-looking.

And once, for one incredible moment, she wandered right up to the audience, standing but inches from us at eye-level on the front row, scanning the packed auditorium like a shepherd counting his flock. An idle follow-spot caught her and suddenly that face was illuminated in all it's technicolor glory. I could see where the gauze on the hairline of the wig was expertly glued to the forehead and then hidden under thick studio-grade foundation so as to be invisible on the screen. The wig itself must have cost a fortune: an enormous, mauve bouffant confection creating a nimbus-like frame to the face, with those wise, old eyes behind the iconic butterfly specs.

As I looked closely at Edna, her face relaxed and contemplative, even tired-looking, I could see if I really concentrated Barry Humphries himself. I wanted to speak to him - pull rank on the rest of the audience and say, 'It's me, Mr. Humphries! Don't you remember? You saw my show in 1998. We had dinner together. You sent me a telegram when I played in Sydney!' But of course, I wasn't looking at Barry Humphries: I was looking at Edna and we had never been introduced.

After a few moments, she moved away, consulting with a lackey on the running order and the taping continued, climaxing with a riotous duet with Debbie Harry to One Way Or Another. Fans of Dame Edna's dancing will relish her twisted-mouth cavorting during this number, which to Humphries' obvious disdain, had to be repeated for technical reasons. Agony for him but exquisite pleasure for us, the audience - which is what showbiz is all about, folks.

Goodnight Possums!
Eventually, the guests departed, probably to ready themselves for a dinner with Humphries not unlike the one I had with him in 1998. Edna stayed on to record some links and trailers, remarking to the audience: 'Whenever they need to make a little edit, they'll cut away to a shot of the audience. So you're going to be seeing an awful lot of yourselves in this show.'

At last, she was released and was led by a young producer off into the wings. I kept my eyes on her until the last moment, even as the rest of the audience stood to remove the cream-coloured bath-robes we were required to wear. Watched as clip-board carrying crew members young enough to be Humphries' grandchildren and who wouldn't have been born the first time I saw him perform all those years ago, reached up to help Edna out of her glasses and shoes and back into someone resembling a thoughtful, cultured and softly-spoken Australian man of letters.

The studio curtain was tugged across the wing and the dream, at last, was ended.


2/2/09 Addendum:
Site member and friend Jane Bower has given me permission to quote from an email she sent me today about her encounter with Dame Edna and Barry Humphries. It is a delightful and touching description - and a great photograph too.
I've just had a look at your site and have read of your obsession with Dame Edna. I have to tell you that I had the pleasure of that lady's company last May when we were both booked to appear at Addenbrooke's Hospital Open Day, I as Florence Nightingale and she as herself. We had a 5 minute conversation together for the local cameras, during which I asked her if she was looking for the post-menopausal clinic, and said that I strongly suggested that she shed her rings and nail varnish, which were notorious for harbouring germs. Pic attached for proof (and yes, that is Mary Archer behind us). It was such a hot day that poor Barry had to use a wheelchair, his costume was so unforgiving. He was appearing on 'I'd do anything' that night as a judge, and suddenly hissed in my ear out of role 'I'm serious, who do you think should win it?' I told him, also out of role, and he agreed. Later, he was being wheeled out of the hospital down a corridor in which I was standing behind hundreds of waving and adoring fans. Suddenly his hand reached right through them and he took my hand and gave it a squeeze and a kind of 'thankyou' with his eyes. It meant a great deal to me.