Blog first published on myspace 3rd May 2007
How we got the last photos from inside Kenneth William's flat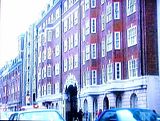 Marlborough House, Osnaburgh Street in April 1988 after Kenneth's death

Did you know they are about to knock down Kenneth Williams' last flat? The one on Osnaburgh Street that he moved into on 3rd August 1972 and died in some time during the long, dark night of 14th April 1988. The one he was referring to during his wild outbursts on Just a Minute: 'It's a disgrace! I've come ALL the way from Great Portland Street!'

Malborough House, in which Kenneth's second floor flat was situated, has long held a fascination for his fans. It has become a site of pilgrimage, where we might stand and gaze up to the second floor and silently contemplate his suffering. If you looked hard enough, through half-closed eyes, you could almost see Kenneth and his aged mother Louie, shuffling in through the fan-lit front door on their way to the lift that would carry them up to their adjoining apartments.


Louie and Kenneth's front doors 1998

A few weeks ago the scaffolding and tarpaulins went up and it was clear that the long-threatened demolition of this sacred shrine was about to commence. The bus I often take into town, the C2, passes right by the building and it has been sad to witness the preparations for the execution.


The first thing I noticed was that the blue plaque put up by the British Comedy Society had been removed and was probably already serving as an ashtray in some construction worker's games room. Still, it had always been irksome, that plaque: it had had to be placed on the first, rather than second-floor flat because the people who moved in after Kenneth died wanted nothing to do with his memory and spurned the frequent requests by television documentary makers to film the rooms where once he'd stood. Now the whole block had been demolished right up as far as the outside wall of Kenneth's flat. It was almost as if they'd stoped for the weekend out of respect.



In 1998, I assisted with the BBC's two-part film on Kenneth for Reputations,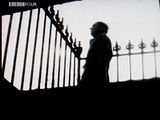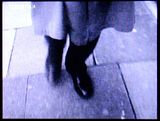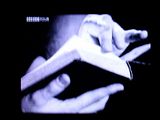 lending not only my voice to the diary readings but my rain-coated figure to a series of grainy black and white shots of feet tripping quickly up the steps of buildings in which he'd lived, leafing through lofty tomes or, filmed from behind, trotting through nearby Regents Park.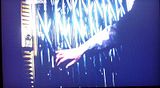 Frustrated by the prohibition on filming inside Kenneth's flat, we contented ourselves with shots of me going up and down in the lift, the door of which clattered open directly onto Kenneth's front door. I took the opportunity to peep through the letterbox. There I could see, as if in Cinemascope, on the left side of the screen a bit of his kitchen and on the right, the toilet/bathroom in which he had spent so many meaningful hours of his life.

It just so happened my good friend Wes Butters was in town on Saturday.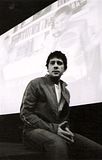 I like it when Wes in town: things happen when he is about. Not always pleasant things but... challenging things and I think it's good to challenge yourself once in a while, within reason. Wes used to work for BBC Radio 1 and when I first met him in 2004 he spent his Sundays broadcasting urgent news to the youth of Britain about the state of the charts: who was up and who was down and the whole tarradiddle of it. Not long afterwards he was 'let go' by the Corporation - a decision I should imagine they now regret since he has been picking up awards and fans galore at Galaxy F.M. in Manchester. Despite being so intimately au-fait with the culture of youth, Wes retains a charming and passionate love for old movies. He collects like mad: he has a silver hip-flask that Stan Laurel's dad gave to his son during his triumphant 1931 home-coming with Oliver Hardy; a peaked leatherboy cap worn by Kenny Everett; and any number of vast, linen-backed movie posters, with pride of place given to the Carry Ons.
Wes also possesses an extraordinary cache of Kenneth Williams' personal items, obtained fair and square from a family friend. I was there when the booty arrived: we sat on his bed glassy-eyed as we unpacked boxes of papers, photographs and even items of clothing that were now Wes' personal property. Sometimes he will ring me up and say: 'Guess what: I've got the passport,' or, ' the last will and testament,' or, 'the pen with which he probably wrote his final diary entry.' That's how serious a collector he is, and morbid with it.

So Wes was down for the weekend. We had lunch with a dear friend of Kenneth's, a lovely man called Michael Whittaker who knew Kenneth and Louie very well in their last years and whom Wes and I are now honoured to call our friend too. After lunch Wes and I talked wistfully of the imminent demise of the old flat. 'Shall we go and have a last look at it?' he asked with a baleful smile, which he does charmingly. So we hopped in his big, black grown-up's car and with what seemed like two taps on the gas we travelled from Chelsea to Great Portland Street and were sitting by the curb gazing up at the condemned edifice.


Both of us had the same thought at the same time.

'Shall we?'
'We could!'
'Not now. Too many people around. But if we came back about midnight...'

Date: Sunday 29th April 2007
Time: 1.30am
Place: Osnaburgh Street


Mission: To climb the scaffolding, gain access to the flat, take pictures and leave a photo of Kenneth (signed for his sister Pat and kindly sent to me a few days ago by Barry Took's widow, Lyn). We both loved the idea of a little bit of Kenneth disappearing in the final conflagration.


Wes and I are also big Laurel and Hardy fans and perhaps subconsciously he had absorbed some of their antic spirit when he formulated his plan. 'Okay, Benson, I'll wait down here and keep watch on Albany Street. Once it's clear and there's no traffic coming, I'll give you the sign. Then you just climb up the scaffolding, under the tarpaulin and into the flat. Once you're in, give me a ring and I'll join you.'

'Now wait a minute, WAIT a minute' I said. 'You want me to go in there alone? Suppose the floor collapses?'

'Don't be daft, it won't collapse. It's still standing, isn't it?'

'Suppose an alarm goes off?'

'Why the fuck would they have alarms on a building they're about to pull down?'

'Suppose the police come and arrest us?'

'The press would love that. "Kenneth Williams impersonator and ex-Radio 1 D.J. caught breaking and entering dead camp comedians' flat!" You can't buy publicity like that. Look, Benson, this is a once-in-a-lifetime opportunity. This is a bit of history we've got here and I'm telling you, we are going to get in that flat and leave the picture and we're going to do it for Kenneth.'
'You do realise,' I said, offering one more plea for reason, 'that the only person who would not give a toss about this flat being demolished is Kenneth himself? He was completely unsentimental about...'

'Right, I'll go and stand on the corner over there,' said Wes, totally ignoring all reasonable objections, which is why he is rich and successful and I am not. 'I'll call you in one minute and tell you when the coast is clear.'

After MUCH trial and tribulation during which an endless succession of drunks tottered past, cars and buses full of gawping passengers pulled up at the lights ('Fuck OFF!' I whispered under my breath) and the White House Hotel, situated between me and Wes, welcomed a stream of noisy, clamourous guests through its revolving doors ('At THIS hour?') all too soon, the moment arrived.

'Okay, Benson' hissed Wes, 'It's clear! There is absolutely nothing coming. Go for it!'

I aborted the call and, appalled at my own bravery, found myself heaving my carcass up onto the wooden base of the scaffolding and reaching up to the first bar. Got it! Next part was to reach up to the bar above that and somehow pull myself up onto the planks of wood that constituted the lowest walk-way.

This was where the weakness in Wes' plan immediately became apparent. I soon realised that to achieve this stage of the journey would require me to belabour my entire body weight above where my head now was, with no purchase for my feet other than the cold, slippery scaffolding pole. It was like being in a P.E lesson all over again. I felt a surge of inadequacy flow through my body and, just like at school, I gave up. At once. No point in trying to pretend I could do it - just quit and admit defeat.

We went and regrouped in the car for a while. Both of us were desperate for a wee by now but this failed to sway Wes: 'All the more reason to get into his flat. The next time I have a piss, it's going to be in his toilet.'
He was on a mission and there was no going back now.

We swapped roles. This time I was the look-out and he loitered by the flats waiting for the signal from me. Once the road was clear and there was a momentary hiatus in the procession of revellers, I gave him the word and heard his phone go dead.

I walked across the square, past the hotel and back to the flats. No sign of Wes. I called him.

'Where are you?'
'Under the sheeting. Come round to the end so you can see me. I'm looking into his flat now!'



I walked to the open end and looked up: there he was, excitedly leaning in at the window and taking snaps with his phone... of the wrong flat!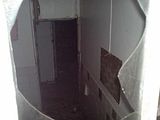 'No! Up, up! It's the one above, second floor!' I stage-whispered, trying not to attract the attention of three Middle Eastern-looking drivers standing outside the hotel.

In a moment, Wes had hauled himself, gibbon-like, up the pole to the next floor and before my very eyes, posted himself over the sill, through the open window into Kenneth's living room, like a seal diving through a hoop.

There followed an agonising wait of about ten minutes while Wes walked in Deep Kenneth Space. I listened for the sound of collapsing joists. Occasionally I would see a blue-white flash in one of of the cold, black windows. At one point a police car came screaming round the corner with its lights ablaze, slowed down as it passed me and swerved off on its way to lesser crimes in the West End. The Middle Eastern men were talking to each other but looking at me.

Another flash, this time from an even darker and more remote window. At last my phone rang.

'Is it clear? I'm coming down.'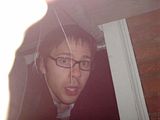 To my relief my brave chum emerged from behind the sheeting and clambered down to street level, a look of wonder and disbelief on his face. He'd done it! He had actually been in Kenneth Williams' flat. Had stood in each of the rooms. He said it was terrifying: the whole building had creaked and groaned as he crept through the pitch-black rooms, not knowing whether the next footstep he took might lead directly to the floors below.
But he was there and he had pictures to prove it.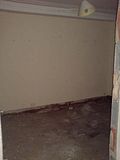 The bedroom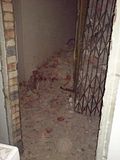 The lift outside kenneth's door

The living room window
The kitchen
He also had a white floor tile from the kitchen, which he generously insisted I take, and two fragments of the toilet bowl, which he kept for himself, interestingly. 'But they must have had the toilet replaced at some point after they moved in. That's not necessarily the toilet he sat on.'

'Doesn't matter. It's from his bathroom. It's a pity it was broken, I'd like to have pissed in it. But I did it on the floor anyway.'


'Did you leave the photo?' I asked, needlessly.
'Yep. Left it in the living room.'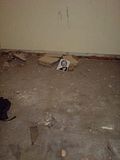 I wish that I were as strong and brave and simian as my friend so that I could have said I'd been there too. But I'm not and I wasn't and that's the way it goes with me.

But wasn't Wes brilliant, doing all that for Kenneth? Bless his heart. He'll always remember that, won't he? And that his fat, old out-of-condition friend Benson was there to witness the deed and to help out, to some extent. I am pleased that I was there to help him achieve such a beautiful, if futile, feat in on honour of our mutual hero.


RIP 8 Marlborough House, Osnaburgh Street, London